@ Spitfire: That's definitely an interesting pose! I like it!
Ok, so we've all got our reference pics. Now we've got to resize it.
I like to shrink it to roughly Moe's size. If you want yours smaller or bigger, go for it.
Just copy a base of the size you want, and paste it as a new image/layer. Line it up so you can see how much of a difference there is between the two.
Mine got squished down to 30%, but it will be different for everyone.
Then you trace the outline. Fingers can be a pain, because they tend to look more like claws. We'll work with that once we start shading.
* I like to color in the background around the model, so I can still see the body. Then I go in and flood-fill it to check that the edges are smooth and there isn't anything weird going on. From there I drop the opacity to 25% - 50% and trace the outline. Do whatever you're more comfortable with.
If there are parts you can't see very well, try to study the full-size image and guestimate where the outline should be. Try to jot in the breasts, belly-button, elbows, knees, and ankles if you can. It will make things easier when we shade.
I stopped my outline at the neck, because she's going to get a new face later. You don't have to do that. Make sure you trace the eyes, eyebrows, nose and lips if you're doing the face now. Try to get the shape of the head without hair, too.
Here's what my workspace looks like...
[align=center]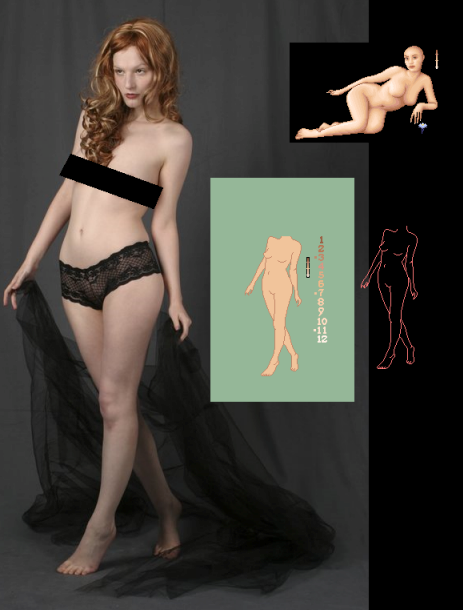 [/align]
Her hands and shoulders look weird, so I improvised to make it look better.
[align=center]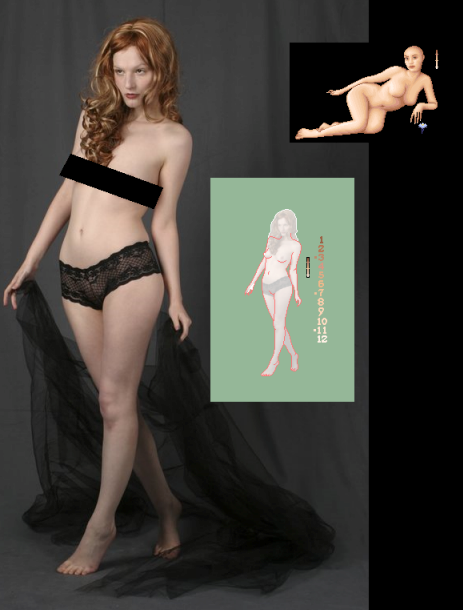 [/align]
We'll leave it at that for now. It's a simple step, but it's probably the most important, so we want to make sure we're happy with it.