[align=center]This month's winner is
chewbroccoli
!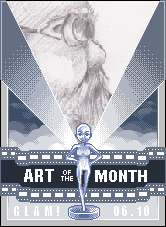 [/align]
I notice you sketch a lot. Is it your favorite medium?
I sketch a lot while I'm at work and on lunch and I can't really lug around a lot of other things with me. So pencil and paper is usually all that I have. I do love sketching more than anything else, though I also use colored pencils and pastels when I have them with me.
Have you taken art classes in the past, or sort of learn as you go?
I took art classes in high school, way more than I should have probably. It's a mixture of the two because I've never wanted to think of art as something to take too seriously. Then it would feel like a job and I would get sick of it. From here on out, it will be learn as I go.
On average, how long does it take you to do a sketch?
A couple minutes if I'm just doodling, but if I like what I see I might keep on going until I have something better. I think that this sketch took a couple of minutes to do.
What is the hardest thing for you to sketch?
Anything that isn't a person. I've always drawn people, figures, those sorts of things.
On this particular sketch, would you change anything?
Now that I'm looking at it again, I kind of want to go back in and color it up. He reminds me of steampunk and that color scheme is always fun to work with.