[align=center]This month's winner is
Halo
!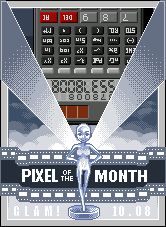 Could you tell us a bit about what inspired you to create this?
I was trying to remember the sum and drew it to curb my frustration (the logical solution of Googling it never occurred to me).
Did you use a reference, or create your own kind of calculator?
It was a real calculator, a 30 year old solar powered Casio. Any button will turn it on but the only way to turn it off is to bury it somewhere dark. It still works though.
What did you spend the most time working on in this piece?
The scientific characters, trying to get them to fit in the square while still looking like symbols and not just blobs.
Can you tell us a little about the process you took to create this? Did you start with line art or do a little sketching first?
I started with the numbers 55378008, built the screen around that then worked out the scale for the line art from there, scaling the word/numbers up and down, switching back and forth between and odd and even number of pixels until I was happy. Then after adding the numbers and colouring it in I flipped it over.
And of course, being the nob that I am I forgot to take the flip into account when colouring and was left with everything that should be 3D looking inverted instead and having to recolour the outlines. Doh!
Looking back now, is there anything you wished you had done differently?
Apart from remembering that a flipped 3D surface would end up inverted, I think maybe trying to make the plastic more reflective. I'm not sure if that would have made it better or just made it too busy. There's room for future experimentation there methinks.[/align]