[align=center]This month's winner is
Shyla!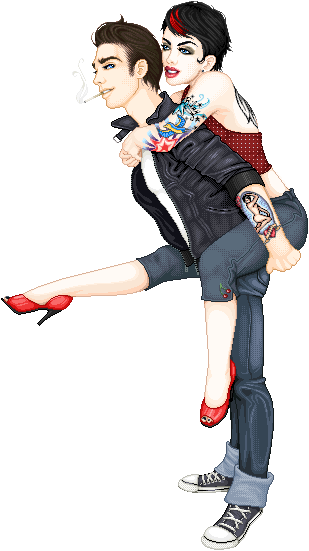 What inspired you to make this gorgeous piece?
The base inspired me, really. And from there, I pictured in my head what I saw the base turning into. For a while, I had been toying with the idea of my and a friend's character being a rockabilly couple. Just, who they are and how their personalities work made them good candidates for falling into that kind of style. When I saw the base, I had to give it a try.
From the tattoos, to the anti-aliasing of the hair and clothes, it's clear a lot of time went into this, but what did you spend the most time working on?
Probably the leather jacket. I've tried pixeling leather in the past without being successful, so I was careful about the details to get it right. I looked up some stock photos on dA of leather jackets--studying how light hit the leather, what it looked like bunched up in certain areas, how the curves of the body affected it. The pallet was defintely important too. Overall, I think it was successful.
What was your reason for choosing the base you chose?
First, because it's large. Nowadays, I mostly doll on only larger bases. With smaller bases, it's harder to focus on details when their too small to see, but with larger bases, you can get as detailed as you want; and you can have fun with anti-aliasing. It's definitely more time consuming and challenging, but totally worth the effort put into it. I've only seen a few people who successfully pull off an extra large doll.
Second, because the base had a lot of potential. As some of you may know, I like to edit to my own desire. You could call me the Jack the Ripper of pixel dolling because I have been known to butcher. However, this base was well made, it needed little editing. I mostly changed the faces to match the appearance of the characters. I love editing bases, but the least I have to edit, the better.
How did you decide on your palettes? Do you have a set of already made up colors, or do you make them as you go?
I have a large Paint file that is loaded with different pallets. Some were collected from different dolling sites that offered them up for free. Others are ones that I have created myself. I have a signiture blood on skin pallet that I made myself ;D When I doll, I usually take from there, deciding which color would best suit my interest. If it doesn't turn out the way I want it, then I edit the colors to make them work.
For this doll, I was going to go for blue on the girl because that's her favorite color, but it was beginning to look very monotoned with the blue in the eyes and on the jeans, so I decided to go with red to make it pop a little more and match her hair. Darker colors for the clothes to even out the brightness of the tattoos.
Looking back now, is there anything you want to change?
Definitely. The jeans on the guy are just... wrong-- the lower part, at least. That was the last part of the doll I worked on, so you can tell I was trying to rush through it to get done. The folds look a little wonky and the seam on the side doesn't even go past his knee. The shoes are weird too. The laces on one of them are closer than the other.
Thank you, everyone![/align]