[align=center]This month's winner is
Linriel
!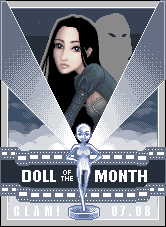 Tell us, what inspired you to make this doll?
Well I have this fondness for making dolls of my many original characters and sometimes even other people's characters, so that's pretty much what happened. That the doll ended up being this specific character really came down to finding the perfect base for her.
Whose base is this? What features made you choose it?
The base is from Embrace Your Inner Pink, and looks rather different from my edit. I like to edit bases. In fact I don't think one has ever managed to escape some sort of edit. But I look for bases with good bones, if you know what I mean, since I'll most likely be editing the body and face to look more like whichever character I'm making. I tend toward choosing bases with a unique pose and mostly realistic proportions. This one fit the bill.
Your face edits are always so wonderful, how long do they usually take you? Are the faces inspired by -you-, or do you have a certain person you keep in mind when doing them?
Hmm, well it really just depends on the base as to how much editing the face gets. It's probably between 10 and 20% of the total work done to the doll. The faces are usually based on my initial sketch and what I picture the character to look like. (I always sketch out what the finished doll will look like on an index card first because it helps the overall composition to come together.) A few characters do have certain people as references, for example Adella looks rather like Audrey Hepburn, Richard like a younger version of my friend Eric, and Linriel obviously myself since she's my alter ego. *points to avatar*
This doll is obviously victorian inspired, what's her story? If she doesn't have one, what do you -think- it would be?
Well, to be honest she's actually inspired by a combination of events in the Forgotten Realms books, specifically the Erevis Cale ones, and a little by the Old Kingdom series by Garth Nix. I'm not really sure how that summed up to be Victorian, but it obviously did.
Now as to her story, well it's rather complicated and I'm not giving spoilers. However, I will say she's involved with rather important events and has ties to the advances of Shade Enclave and Mask, but only indirectly. Thus the name of the doll, Servants of Shadow…
There are so many details and intricate design-work on this doll, but are there any pieces you wish you'd changed now?
Hmm, well there are several bits that were good enough to get by on but could use a little more refinement. I'd say the swirling shadow at the bottom could use some attention as well as the ruffles of the sleeves and the portion over her stomach. Her hair is black and unshaded. A few people pointed out that they would like to see some shine, but it was an intentional design choice that I don't regret. It all goes back to the character at hand.
[/align]