[align=center]This month's winner is
Odyrah
!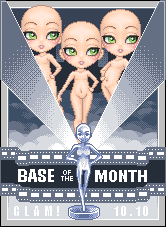 [/align]
Do you make bases often? What kind?
As of late, yes. Generally they're realistic-ish but I've recently decided to try a more cute and chibi-like style.
Where do you start when making a base?
The head. I sketch the head and continue downwards for the rest of the body. Arms, hands and feet come next. Last would be the face.
Do you think there will be more poses later?
For this particular base? Yes, as a matter of fact. I've 3 new poses and 2 new heads; side view and partial side view. Just need to finish their shading, lol.
What part of making a base is hardest for you?
The feet. I just... can't... draw feet!
Is there anything you would change?
About this particular base? Better feet. >> Of my base making skillz in general? The feet and my shading. I'm still a beginner when it comes to pixeling.