Sooo, November was a nice long month for me and I just realized that I didn't post any of my dolls, so here goes.
All bases are by
Mariiii
unless otherwise stated.
My Winter Hat Actor's Challenge Entry. I'm pretty happy with the way the coat turned out.
Not Adoptable :: Is a gift for a friend on a different forum.
A winter dolly! I love this coat, I wish I had it in real life!!
Any who she is my entry for a winter palette challenge on another forum.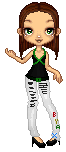 My entry for Shix's contest, Based on Xbox.com.
base
Wow, a doll thats on a base that wasn't made by Mariiii xD Isn't that cra.zy?
Base 1, for the base race contest at
The Silver System
.