10 years after joining and 9 after my last reply/ post I am back at forums. I haven't done much over the last several years, but am thrilled I am inspired lately for more than the textiles (crochet) I do. My daughter is totally in to art and has totally inspired me to get back in to it now that I have a pc again. Missed and love you all!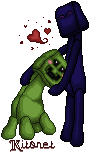 Happy Valentine's Day everyone!!!
HUGZ to everyone because I love your hugs to the end!